This ULTIMATE guide will tell you absolutely everything you need to know about temporary structures, answering some of the most common questions asked. From the different types of structure out there, to temporary structure planning permission in the UK, this guide has it all. So if this is your first time hiring a temporary structure, or you just want to pick up a few quick tips, read on. You can also use the 'quick links' to jump to each section of the guide if you are looking for something specific.
What classes as a temporary structure?
What constitutes a temporary structure is not a simple question; a temporary structure can be anything from a small marquee in your back garden to a huge steel warehouse on a trading estate. Size isn't important; what actually defines a temporary structure is the length of time it will be around, and whether it can easily be moved. Typically, temporary structures can be erected and dismantled in a matter of days, and often require minimal ground works prior to their erection. They can be in place for a single weekend or several years, and this timeline is usually defined by their specific application. As you can see, the temporary structure definition is quite broad!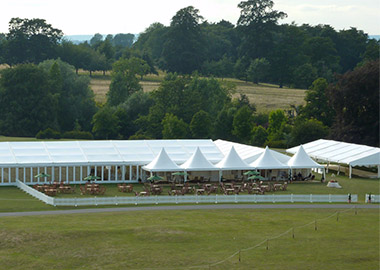 ---
What are temporary structures used for?
There are absolutely tons of uses for temporary structures, but generally speaking, in the UK, they fit into two broad categories; events and warehousing.
Temporary event structures
Temporary structures for events are the first thing most people think of when they think about temporary structures, or more specifically marquees. Below are some of the most common uses of temporary structures when it comes to events.
Corporate events are a common use for temporary structures. A business could be holding a summer event on their premises, or maybe a hotel needs to expand the use of their outside space throughout the winter.
Trade Shows and Exhibitions
Trade shows are often held at large, permanent venues, however there is nearly always the need to utilise the outside space with temporary exhibition structures. They are often used to accommodate a greater number of exhibitors or to provide food and refreshments.
Universities have a number of events each year that call for a lot of space; graduations, freshers' fayre, career days etc. Temporary structures are often used to accommodate such a large number of people in one venue on university grounds.
Sporting events are another big application of temporary structures. It could be a ticket office or security check at a large sporting venue, or even to host the sports itself. When big teams travel, temporary gym structures can also be created for locker rooms and private gym facilities.
Most UK festivals are held in remote fields, so temporary structures are the perfect solution for stages, dressing rooms, eateries and even toilet facilities.
Finally, weddings are a familiar use for temporary structures. These can either be through a private hire, or more commonly via a wedding venue that offers both inside and outside options.
Temporary warehouse structures
Warehousing is the other primary use of temporary structures across the UK. This type of use spans across multiple industries, from retail to agriculture. Some of the most common warehousing and storage uses are listed below.
As businesses grow, expanding storage is often a concern. Temporary warehouses are commonly used where there is existing space on site to expand, so businesses do not have to make major changes to their logistics operations. They are also widely used for seasonal storage, for example camping equipment stock in the summer months, or Christmas stock in the winter.
Another requirement for expanding businesses in increased loading capacity. Temporary structures are used to provide extra loading bays that offer the necessary height for large vehicles and are protected from the elements.
Temporary Barn Structures
Within the agriculture industry, temporary warehouses are regularly used as barns, for example to provide dry storage during harvesting season. Certain structures can also be used as temporary greenhouses, kitted out with heating and watering equipment.
Temporary structures can provide much needed storage in times of disaster. In the UK this is often from weather related disasters such as flooding or storm damage. Units can be used to store emergency food and water suppliers, or even provide temporary shelter for those who have suffered severe damage to their homes and surrounding areas.
---
What are the types of temporary structure?
Since the term temporary structure encompasses pretty much any 'non-permanent' building, the range of structures is vast. Just take a look at these 10 incredible temporary structures on designboom.com to see some of the more dramatic, one-off temporary structures out there. But for the purpose of this guide, we are going to stick to the most common temporary structure types used across the UK and share some temporary structure examples.
Frame Marquees
Frame marquees are one of the most widely used types of temporary structure for both events and warehousing. They consist of a steel or aluminium frame with a variety of temporary structure wall, roof and flooring options, dependent upon the desired use. The frame can be staked or weighted to the ground which means they can be erected on almost any type of surface. This also means that there is no need for guy ropes of any kind to support the structure. One of the major benefits of framed marquees over other types, is that there is no need for any internal poles, which can be obstructive for some uses.
Clearspan marquees
Clearspan marquees are the most common type of frame marquee. They can range in size from anywhere between 3m2 to 5000m2 and more. They are rectangular in shape and offer various options for walls and roofing, depending on the desired use. For events, PVC walls are most common, and for warehousing, steel or aluminium walls and often preferred. Other options include transparent PVC, glass walls and insulated roofing systems.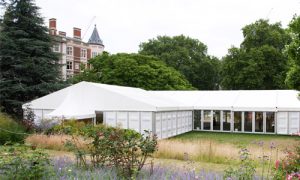 ---
Chinese hat / Pagoda marquees
Chinese hat, or pagoda marquees are small, square marquees with a unique, pointed roof. They range from around 2 – 6 meters wide and can either be enclosed or open sided. They can be used as stand-alone units, but more often are grouped together to form a 'village' or attached to a clearspan marquee as an entryway.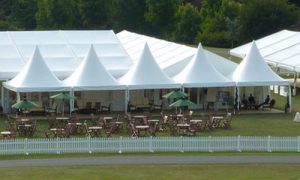 ---
Tension marquees
Tension marquees are a more traditional form of marquee, usually made from canvas which is held under tension with a series of poles and guy ropes. This type of marquee is popular for weddings and festivals due to the traditional look, however does have a number of drawbacks; Poles are required inside the structure, which can prove problematic for some uses, and since most of these structures have to be pegged down, they can't easily be erected on hard surfaces
Pole marquee
A pole marquee, sometimes referred to as a circus tent, has a central pole (or poles) with a sweeping roof leading to multiple vertical poles around the edge of the structure. The structure has guy ropes around the outside, putting outward tension on the structure to hold it in place. This type of marquee is usually made from canvas or PVC.
---
Trapeze marquee
A trapeze marque, also referred to as a capris marquee, is a form of pole marquee without the need for guy ropes. These modern structures are very popular at festivals, providing a novel look without the obstacles that come with guy ropes and crowds! They are usually made of canvas or PVC and can be closed, or open sided.
---
Stretch Marquees
A stretch tent is another form of pole marquee, that uses a flexible fabric that can be stretched to almost any shape across a series of poles. This type of marquee is good for uneven surfaces since the poles can be at different levels.
---
---
How can temporary structures be customised?
Long gone are the days of traditional white marquees and sweeping roof linings (unless that's what you want of course). Today marquees can be completely customised so that you can't even tell they are a marquee at all – just check out this marquee for Backyard cinema (add pic). Both the exterior and interior can be customised to create an unforgettable experience for guests.
The external fabric of a marquee offers a range of options to suit the style of event and instantly attract the eye of the guests. White PVC or tan canvas are the most common, however these can be fully customised with printed covers and facias. Clearspan marquees also offer the option of steel, aluminium and glass wall panels which make them suited to a wider range of applications. For temperature-controlled warehouses, there are also options to insulate with a specially designed temporary structure roof.
Walls, door and window positions are also completely customisable; you may choose to have several entrances and exits, create a cosy corner without any windows, or even create the entire marquee out of glass to show off the surroundings.
One of the most common queries about temporary structures is 'what is the floor made of?' Again, there are many marquee flooring options to choose from. A marquee can be open to the natural ground surface, AstroTurf can be laid, heavy duty floor mats can be put down, carpet can be laid, or even hardwood flooring is an option.
To make a temporary structure feel more like a permanent room, the internal walls and ceiling can be covered with marquee lining. Luxury marquee lining comes in a variety of fabrics, sizes and styles. Plain, ruched or pleated effects are widely used and gables and swags can also be added to give a more dramatic effect. Custom marquee lining is also a great way to introduce colour, for example to add brand colours at a corporate event.
Lighting options can also have a dramatic effect on the look and feel of a temporary structure. Festoon lights and fairy lights are a popular option for traditional poled marquees as they suit that particular style well and are not too heavy for the structure to support. The sturdy structure of clearspan marquees means that rigging can be added to increase the lighting options. This allows for more dramatic lighting for events such as shows and concerts. For warehouses and temporary loading bays, huge, bright lighting rigs can be added so they can be used 24/7.
Alongside lighting, sound systems can also be mounted to the marquee structure. This is important for uses such as concerts, temporary cinemas and sporting competitions.
Another important element, especially in the UK, is heating. Any temporary structure can accommodate floor mounted heating systems, and clearspan marquees can also support frame mounted systems. For temperature-controlled warehouses (and those extra hot summer days) air condition units can also be added.
Once everything else is set up, it's time to bring in the furniture, and this really turns the structure from an empty space to a purposeful space. For weddings this is usually tables and chairs, for corporate events this can include sofas and bars, and for shows this can be complex seating structures, stages and all kinds of props. For sports facilities this can be lockers and changing rooms, or even an entire gym. And for warehousing, large storage structures and racking can be added to make the temporary structure a working unit.
---
Do you need planning permission for a temporary structure?
One of the most Googled questions around temporary structures is 'Does a temporary structure need planning permission?' And the answer is that it all depends on how long you plan on having it and the size of your temporary structure. Below gives a quick and easy summary of when you do and do not need planning permission in the UK.
You do not need planning permission if…
The temporary structure will be up for under 28 days
The temporary structure has a floorspace of less than 1000m2
The temporary structure is under 5m high
The temporary structure is an extension of an existing building and:
– Is shorter in height than the original building
– Less than 25% of the size of the original building
– Directly relating to the purpose of the original building
---
You do need planning permission if…
The temporary structure will be up for more than 28 days
The temporary structure has a floorspace of more than 1000m2
The temporary structure is over 5m high
The temporary structure is an extension of an existing building and:
– Is taller than the original building
– More than 25% of the size of the original building
– Has a different purpose to the original building
---
In the UK it is best practise to check in with your local planning authority, since there are some variations from place to place and around specific sites such as conservation areas and world heritage sites.
If you do need planning permission, the process can take between 8 to 12 weeks so this is one of the elements that must be considered early on in the process to ensure you get temporary structure approval within your timelines.
---
Hire vs Buy?
There are two routes to implementing a temporary structure, you can hire or buy, and there are plenty of temporary structure companies out there to choose from. There is no 'better option' since each route comes with its own pros and cons, but generally speaking the length of time required and company resources will usually define which option is best. For one off events or seasonal coverage, hiring a marquee is usually the better route. For long term fixtures (2 years +) such as a warehouse expansion, buying a temporary structure is likely to be a more economical route.
Hiring
Cheaper than buying for short term use
Hire company carries out erecting and deconstructing process
Covered by hire company insurance
Cleaning and maintenance covered by hire company
---
Buying
Cheaper than hiring for long term use (2 years +)
Responsible for the erecting and deconstructing process
Needs to be added to your insurance
Need to budget for cleaning and maintenance
Temporary structure depreciation to consider
---
---
The process for erecting a temporary structure
The process followed for erecting a temporary structure follows 7 steps, summarised below. More details of each step can be found in our guide to hiring a temporary warehouse which includes a handy temporary structure check list if it's your first time hiring a marquee.
The first step is to note all the temporary structure requirements: type of marquee, budget, size, site details, timescales, customisation requirements and any unique needs.
Whether opting for temporary structure hire or purchase, it is best practise to shortlist a few suppliers and get quotes and references to identify the best suited option.  Reputable UK marquee suppliers will be a member of MUTA, the trade association that ensures industry best standards.
A site survey should be carried out to asses ground surface, boundaries, access etc. This will be carried out by the hire company if hiring, or the responsibility of the venue/organiser if buying a temporary structure.
If planning permission is required, the process needs to be initiated 8 – 12 weeks prior to your event. This can be managed by the hire company, and independent body or the venue/organiser themselves.
Depending on the marquee specification and team experience, construction can take anywhere from a day to a couple of weeks. The frame will be erected, walls and roof will be added, interior set up and a final inspection and handover (if hiring) will take place.
Temporary structures that are in place for 3 months + may need some level of maintenance. This can range from an exterior clean to repair works, for example from bad weather damage.
Deconstruction and storage:  
The final step is deconstruction and storage, which follows the same process of construction, but in reverse.