If you are considering hiring a temporary warehouse, then you have come to the right place. This 6 step guide will take you through the process, firstly deciding if a temporary warehouse is right for you, and then guiding you through 6 key steps, from supplier selection, to planning permission and the construction process.
Read on for the full guide, or use the quick links to the right to jump straight to the section you are most interested in.
---
First things first – what is a temporary warehouse?
If you have landed on this page then chances are you already have some idea about what a temporary warehouse is. So, if you are already up to speed and want to know the steps to take in hiring your first temporary warehouse, then skip right ahead to the next section. But if you want to know a bit more about the different options out there, then read on. Simply put, a temporary warehouse is:
'a building designed for commercial warehousing that can rapidly be erected and dismantled without the need for permanent building works.'
They are usually constructed from a steel frame and a mix of steel or PVC panelling for the walls and roof. They can stand on a multitude of surfaces and rarely require any major groundworks. Depending on size and materials, a temporary warehouse can be erected in a single day, and provide warehousing for as little as a week, to a couple of years should it be required.
As industries have moved towards demand driven supply chains and on-demand manufacturing, temporary warehouses have become hugely popular solutions to accommodate rapid fluctuations in commercial stock levels. They are also ideal for expanding loading capabilities, seasonal storage requirements and pop-up workshops.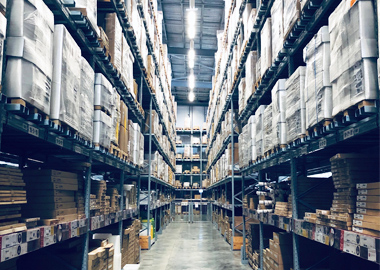 ---
Is a temporary warehouse right for me?
So, you have some sort of warehousing need but are not sure which route to take; a traditional warehouse or a temporary one? There are 4 questions to ask yourself that will help to identify the best solution:
How quickly do I need it?
If you need a warehousing solution right away, the fastest solutions are either leasing a building, or hiring a temporary warehouse. If you have more time, combined with a long-term requirement, then purchasing an existing warehouse, or building a new warehouse can be better options.
How long will I need it for?
If your requirements are seasonal, just a few weeks or several months, then hiring a temporary warehouse can prove cost effective, and significantly reduce administration tasks associated with managing your own building. However, if you know you will require the warehousing space for a number of years, then a more permanent solution will likely be better for you.
If you need a warehouse in the vicinity of an existing manufacturing, storage or logistics site then a temporary warehouse can prove most effective, especially if you already have the space available. However, if location is not important, then both temporary and traditional warehousing should be considered to identify the most cost-effective solution since costs can vary significantly across the UK.
Temporary warehouses are almost always cheaper than permanent building and offer some other cost benefits too; business rates can be avoided, added security can reduce insurance premiums and OPEX budgets can be utilised instead of CAPEX if needed. Of course, there will be a time threshold at which a permanent warehouse solution will prove to be more cost effective, usually around 2 years plus, depending on requirements
Answering these quick questions should quickly give you a feel for if a temporary warehouse is right for you. And if it is, read on to learn about the steps needed to successfully hire your first temporary warehouse.
---
Step 1 – creating a specification
To make the process of hiring a temporary warehouse as smooth as possible, you need to have a clear understanding of your requirements. The check list below shows the key things you need to define in preparation for getting your quotes:

If you have a set budget you have to stick to, make this clear from the beginning to avoid any disappointment or difficult conversations further down the process.

Specify the size of your temporary warehouse based on your warehousing needs. If you are not 100% sure, still provide an estimate to work with and remember that the benefit of a temporary warehouse is that it can be expanded at a later date should you require more space.

Make a note of any relevant details relating to your proposed site for your temporary warehouse; Is the site level? What is the ground surface? How close is it to other buildings?  Are there any access restrictions? Is there power available at the site?

Define your timescales for when your temporary warehouse needs to be up and running, and how long it will be required for. If you are unsure about the latter, make sure to get a quote for extending your hire if needed.

Every temporary warehouse is different, so make sure to identify any specific requirements. Do you need extra flooring? Is temperature control important for your type of goods? Do you need power connections throughout the warehouse? Do you require vehicle access into the warehouse? Would a storage canopy suit your needs more than a full structure?
Most reputable suppliers will provide you with guidance of what information they need, and often give you a request form to complete to ensure nothing is missed.
---
Step 2 – selecting your supplier
Once you have a clear understanding of your requirements, its time to select a supplier. Its good practice to identify your top three suppliers and contact them all, not only to get the best price, but to also see supplier response times, understand their true capabilities and to get a general feel for their working practises.
A few things to consider when shortlisting suppliers are:
Locality
A local supplier will mean lower costs for transporting the structure to site, along with a better understanding of local access routes. It also means face to face meetings are easier to carry out.
Case Studies
An experienced supplier should be able to provide you with case studies so you can see their previous work and the type of clients they work with.
Reputation
Check for reviews and testimonials to see what previous clients have to say about their experiences. It is fine to ask potential suppliers if they can provide you with a past clients contact details; then you can hear from them first hand about their experience.
MUTA Membership
Visit www.muta.org.uk – The MUTA trade association sets out industry best practises and regularly inspects all of their members, so shortlist suppliers who are members.
---
Step 3 – Site Survey
Once you have selected your supplier, you can expect a site survey fairly early on in the process. Your temporary warehouse supplier will be looking to assess a number of things whilst on site to make the construction process run as smoothly as possible. The type of things you can expect include:
A review of the ground to see if it is suitable to support the structure, or if any extra work needs to be carried out.
An underground scan to check for low level pipes etc.
Measuring of the spacing from the boundaries of other buildings.
A review of site access for construction vehicles.
An assessment to whether planning permission is required.
Following the site survey, you supplier will provide a programme of work, including timelines, methodology, structure diagrams and risk assessments, and finally agree construction dates with you. Note that very simple temporary warehouses may not require a site visit at all, and your supplier may just need a description or photograph of the site.
---
Step 4 – planning permission
One of the most daunting questions you will likely have is, 'do I need planning permission?'
Obtaining planning permission has a reputation of being complex, time consuming and costly, but luckily this is not always the case, especially with warehouses and industrial buildings. In fact, some temporary warehouses do not need planning permission at all. The Planning Portal provides a detailed guide on planning permission requirements within the warehouse and industrial building category and guidelines to building regulation exemptions for temporary buildings, but generally speaking there are three key elements that impact planning permission; the height of the building, the floorspace, and the time it will remain erected for.
Planning permission requirements can vary, especially around sites of scientific interest, national parks, conservation areas and world heritage sites. Different local planning authorities can also remove some permitted development rights, so it is always recommended to seek advice from your local planning authority for any temporary warehouse.
In cases where planning permission is required, this can take between 8 to 12 weeks, which should be scheduled into the timeline.
---
Step 5 – construction 
Once everything is finalised, construction will begin, and it can be surprisingly quick. Basic structures can be erected in a single day, with larger, more complex structures taking anything from a weekend to one week +.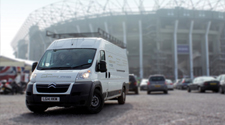 Arrival
Upon arrival the construction team will carry out any final risk assessments, put up any relevant signage and ensure the correct PPE is in use before construction begins.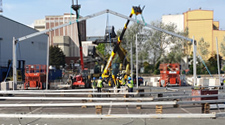 Frame erection
The temporary warehouse will arrive to site in a modular form to enable fast and precise construction. Most structures will have a steel frame which will be constructed on the ground and lifted into place by a forklift or crane, depending on the size. An aerial work platform may be used for any work carried out at height. Once in place, the frame will be secured to the ground.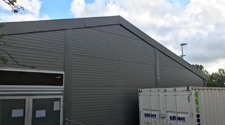 Walls and roof
The walls and roof modules will then be attached to the frame in a 'flat-pack' style. Any doors and windows will also be installed to complete the main structure.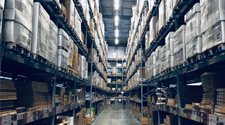 Interior
Construction will move onto the interior and any specific requests that have been made. This can include for example, the distribution of power throughout the building, installation of weather monitoring equipment or the installation of storage rack units.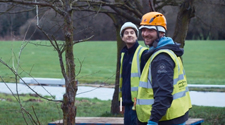 Handover
The site and structure will then undergo a final inspection by the site foreman ready for handover. You will then be shown around the temporary warehouse and given the keys.
---
Step 6 – maintenance and deconstruction
Depending upon the length of your hire, structure maintenance may be required. This can range from a one-off exterior clean, to a lock change, to a building extension. If you are planning to keep the temporary warehouse for longer than 28 days it is worth discussing any maintenance timelines and costs from the start so you are prepared for these at a later date.
Finally, once you have finished with the temporary warehouse, the deconstruction process will take place. This is very similar to the construction process in reverse. Risk assessments may be carried out again once the construction team are on site. The structure will be dismantled and removed from site, leaving the space clear for whatever it may be used for next. You will then sign off the site with the site foreman before the construction team leaves, and you hire is complete.
And that marks the end of your temporary warehouse hire process.